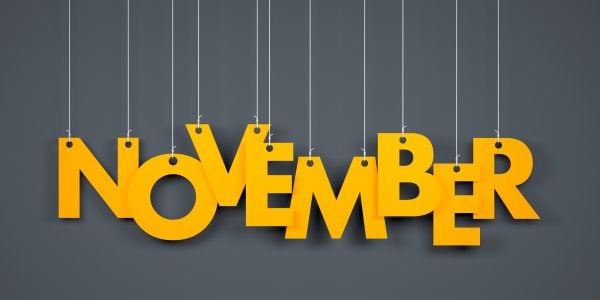 We're back with our monthly piece about good seasonal excuses for sending text messages to clients. Let's look at what interesting days we have in November.
10th November
This day is World Youth Day, which was established in honour of the founding of the World Federation of Democratic Youth (WFDY). This event took place at the World Youth Conference held from October 29 – November 10, 1945 in London.
World Youth Day serves to unite youth, despite differences in nationality or political or religious views.
You could adapt almost any event for this day, the main thing is to remember to send an SMS mail-out to your clients.
"On November 10, we invite you to spend World Youth Day with us. During the day various events will be held in our cafe. In the afternoon, you can visit our discussion club and over a cup of tea, discuss your thoughts about the problems that young people face. In the evening we're hosting a concert by the best young performers of our city"
15th November
Every year on November 15, a number of countries celebrate World Recycling Day. The main goal of this day is to attract the attention of the authorities, the public and industry to this topic.
"Rubbish needs to be properly disposed of, or better yet, recycled, giving a second life to the already used raw materials," environmentalists say.
You can remind your clients about this day and the need to recycle waste to using an SMS mail-out.
"On World Recycling Day, we want to remind you of the need to give rubbish a second life, by sending it for recycling. Let's make our planet cleaner together"
17th November
International Students' Day is celebrated annually on November 17. It was established in 1941 at an international meeting of students of countries fighting against fascism, which took place in London (Great Britain), but began to be celebrated in 1946. The date is set in memory of Czech students who were shot in 1939 for protesting against the Nazis.
Today, Students' Day is celebrated in many countries of the world, and although the programmes for celebrating this day vary, it is very popular among students.
You can, for example, organize a quiz for students and give the winner a prize .
"We are launching a quiz dedicated to International Students' Day. It will last a week. On November 17, our judges will select the winner. All the details are on our website [link]"
19th November
Every year on November 19, the world celebrates International Men's Day (IMD). It was first celebrated in 1999 by residents of the Republic of Trinidad and Tobago. Subsequently, this holiday found support in other countries of the Caribbean, Australia, North America, Asia, Europe and all over the world.
The initiator of today's International Men's Day was Dr. Jerome Tiluxingh from the University of the West Indies. He proposed the establishment of a holiday that emphasizes the positive role of men in the family and society.
In honour of this day, you can give your male clients a discount or other bonuses.
"Happy International Men's Day! In honor of this day, we give you a 10% discount on any purchase in our online store"
Of course, in November there are many more interesting events. We have just picked out a few of them. Find your own good reasons to send text messages to your clients. We'll be back with more in December.