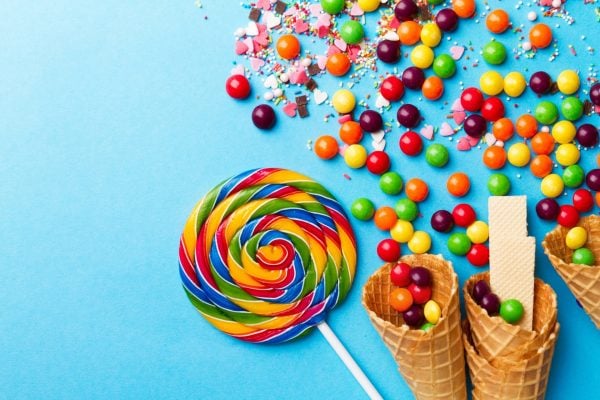 Research published by Fior Markets shows that the global candy market is expected to grow to USD 290.7 billion by 2028, growing at a CAGR of 3.8% during the forecast period 2021-2028.
Factors contributing towards the growth of the candy market include its increasing affordability by a raft of new consumers and the rapidly growing urbanization and industrialization, especially in developing countries. With the growing population comes a growth in the target consumer base as well.
The changing tastes and preferences of the consumers, developing economies etc., have led to a significant increase in the sales of candy all across the globe. And innovation is huge too. Candy products have registered a prominent place in households, especially during the lockdowns as more people were working from home. Temptation indeed. What's your favourite? "Anything with chocolate" would be the most common answer from our own team members we can tell you!
Candy sales kiosks and larger premises seem to be springing up everywhere. Of course so much business is transacted online but nothing replace being able to physically go into a shop, touch the candy jars, decide exactly what and how much you want and of course immediately be able to sample the goods – instant gratification!
Starting a business that retails candy is relatively simple on the face of it compared to most and the biggest challenge to overcome is often selecting the right operating location for the business. Ideally, a candy shop should be in a very busy area of a community so it can take advantage of foot traffic, as well as impulse buying by consumers. Also it's most definitely worth thinking about offering customers a free delivery service to expand the potential market to include customers who want to gift relatives in the hospital, loved ones at holiday time or on special occasions or businesses looking to reward clients or employees with their favorite box of goodies!
Competition in the sector is most definitely on the up and if you are looking to make a real impact, you've got to think a little out of the box and not just rely on social media advertising or email to do the heavy lifting. This is where you need to really think about using SMS text messaging.
With impulse purchases making up such a large part of candy sales, understanding how best to deliver whatever message you want to share with your customers needs to take that fact into account.
Take a walk around town and you'd be hard pressed not to see somebody at least glancing at their mobile device as they move around. And a huge driver of this behaviour is text messaging. Research has shown it not uncommon at all for people to look at their mobile phones 150+ times a day. It has become ingrained behaviour in so many around the world to look at their phone immediately a text arrives. The same cannot be said about email and some other channels.
Think about how many emails go unread. Sure, email might be practically free but what's the point in going through the motions and taking up your time trying something that is globally acknowledged not to get the results SMS does. If you want to ace mobile engagement from the get-go then invest in the humble SMS. Millions of businesses around the world have and for great reason!
Candy might not be one of life's essentials but run any organization and how you go about driving that engagement with your clients, potential clients, members, team members, suppliers and any other type of stakeholder you can think of, is of existential importance. Don't risk that. Five billion people around the world use SMS and are inherently comfortable with it. Use that.
Intis Telecom is now in its 13th year of business messaging and we have a loyal client following who recognize the value we bring to their businesses each day. Our SMS (and also chat app solutions) make it genuinely easy for any organization to send its customers or team members content globally rapidly and accurately, allowing them to get on with doing what they do best – treating their customers with exceptional care, as individuals. Try us out – you have nothing to lose and everything to gain!