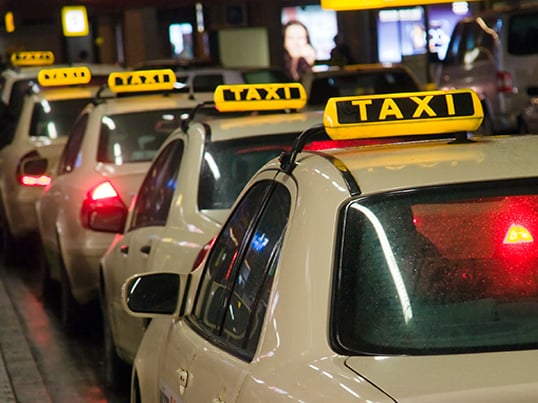 Statistically, 95 percent of SMS are read within 3 minutes of being received. Apparently, this time period is even less when it comes to taxi cab arrival notifications, as people generally wait for them.
So, in the annuals of marketing there is no medium better suited for a taxi company than text messaging, with its convenience and immediacy.
Here is an in depth guide to SMS marketing to help you to second guess your client's needs before they even know it's time to order that cab.
You may already have an appreciation of how useful operational SMS messages are for taxi drivers and clients, so let us leave this until later and start with the various reasons for sending promotional text messages to your clients.
Firstly, there are busy periods, such as festivals and mass sport or entertainment events.
Typically, on these days, at the venue taxi fares go up, since people from all over a country (or sometimes even further afield) tend to flow to one site, creating excessive demands on the local taxi fleet.
But don't lose your head dreaming of the extra income you can make on these occasions.
On the contrary, it's time to knock down your prices, at least for your regular clients, who deserve a discount as a reward for their loyalty to your taxi service.
Simply text them the following:
"Hi, [client's name], are you having problems ordering a taxi cab this week? We won't let you down. Text TAXI to 45554 to get your exclusive discount. Expiration date …"
Secondly, besides waiting for a busy events in your city, you can create your own marketing newsflashes to drum up interest in your business.
Look at Uber, which does this so effortlessly. Their offer of a ride on a Tesla electric car is particularly attractive. That was a really novel way to attract clients to the Uber taxi service, as a Tesla electric car is not something most people see every day.
Use "simple pleasures" incentives, like pizza delivery by taxi, or a "Cupid taxi driver" who brings presents to that special someone, or whatever your marketing imagination gives birth to.
The only thing that is constant is that you need to add SMS messaging to your marketing toolkit. It can be used for the promotion of new services among your mobile subscribers, helping to retain their loyalty to your brand.
Finally, let's move on to an ABC of the use of operational messages for taxi marketing.
This is not to bore you, but we just want to be sure you know at what stages of an order you need to send an SMS to your client.
So, check it out:
send a confirmation SMS to make your client feel confident about the booking, preventing the client from ordering a taxi from a competitor;
text your client an Estimated Arrival Time;
inform clients when the car arrives, giving its registration plate (this last aspect is not too much information, it makes life easier for your driver and your client, especially in busy areas where it's hard to tell which taxi cab is yours)
cut out the middle man and let drivers and your clients talk directly to each other by sending them SMS with their mobile numbers, so that they can find each other more easily;
text a client an SMS with the amount to be paid at the end of a ride;
find out whether your clients are satisfied with your service by sending them SMS requesting feedback; this shows your care about their views and at the same time provides you with valuable information about the strengths and weaknesses of your business.
‍