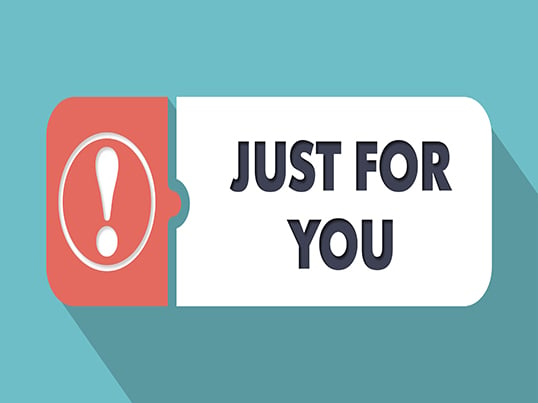 Marketing conversation rates soar up when you add a personal touch to your campaigns. Likewise, personal text messages have higher opening rates than standardized ones. But how exactly can you make a text message more personal? There are many ways to do this and they are all simple to carry out with the special feature of our texting service.
The basic way to personalize your text messages is to use customers' first names. For most people, these are the most important words in your SMS promotions.
You could do it manually every time you send message to one particular customer. But our texting service's features allow automation of this process; your customers' first names are automatically taken from the list stored on your Intis Telecom online account and put into the correct messages for bulk SMS delivery.
So, before you create a new personalized SMS message, you should make sure that every customer in your customer list has a first name; if this is left blank, the word 'Friend' will appear there.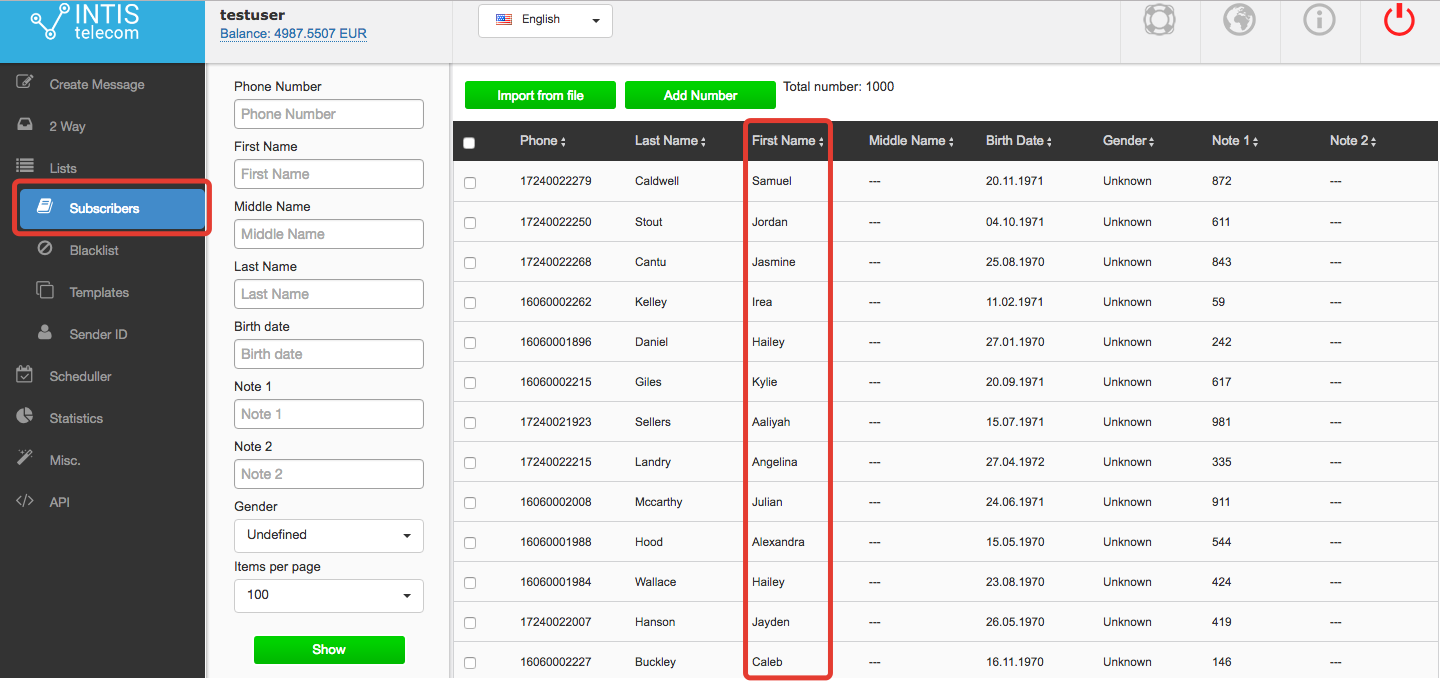 Now how can you start creating a personalized text message?
It's very simple!
You just click on the 'Insert' button above the top right corner of the text message field and choose a tag from the drop-down list. The tags contain the information about the recipient that you want to put inside your text message.
As you need to send out SMS messages with your customers' first names, you should choose the tag 'First name'.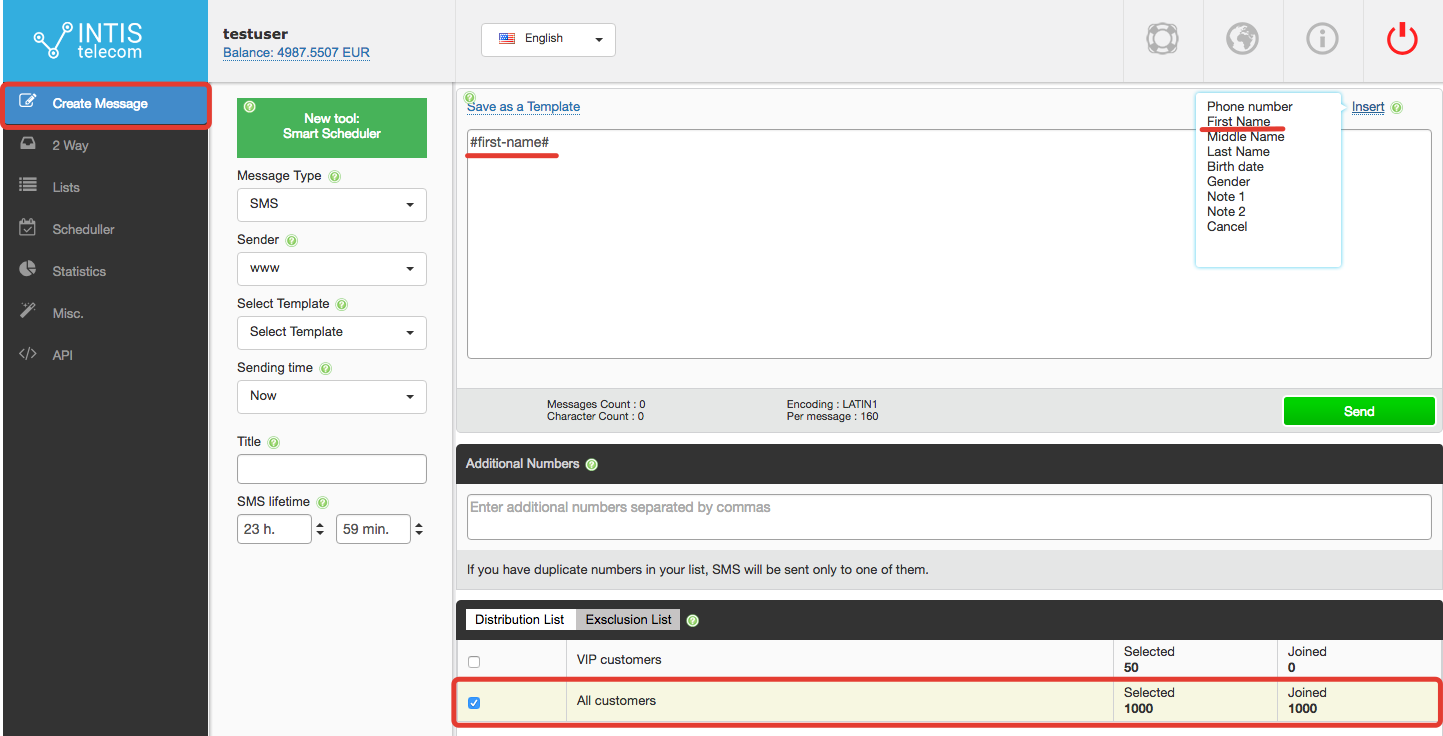 Let's see how it works.
If you use our 'first-name tag' to text your subscribers, you will see something like the screengrab below: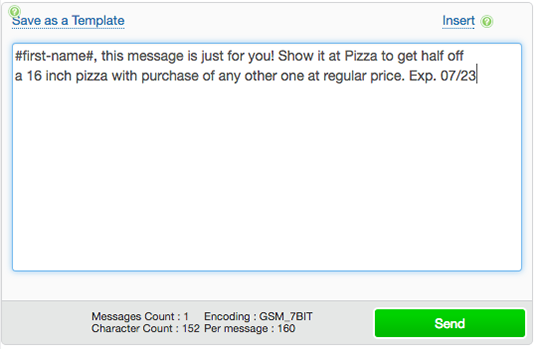 Our texting service will automatically substitute the #first-name# tag with the correct customer's first name, so that a subscriber named Bob would receive the following message: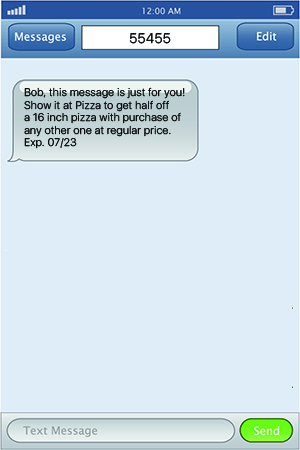 At the same time subscribers whose first names you haven't recorded in your customer database would receive this message: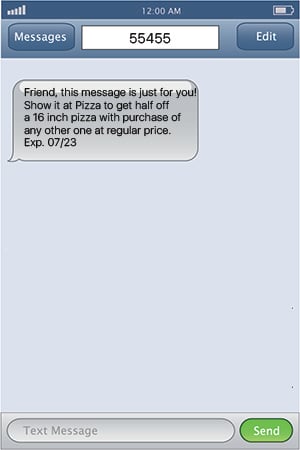 Even though there isn't a first name in the text message, it still sounds pretty personal and friendly, doesn't it?
What else can you do to personalize your SMS?
Besides the 'First name' option, the 'Insert' button also has the option to add different information to the text message, such as 'Last Name', 'Birth Date', 'Gender' and 'Note 1 and 2'.
The 'Note 1 and 2′ options are blank, and you can use them for any other information about a customer that you'd like to utilize in your SMS campaigns or text alerts.
Let's take a closer look at how we can implement this option.
Say you have a beauty salon and you want to both enhance your customer service and reduce your clients' no-shows, as these problems can decrease income and seriously harm your business.
It's a nice idea in this case to follow up your clients by SMS reminders, so they can see you really care about them.
So, get back to your customer list on your Intis Telecom online account and see what information you can fill in the 'Note 1 and 2' columns:

As shown in an example above, you can enter appointment information in these columns. To do this, you just need to double-click on a customer's 'Note 1 and 2' fields and fill in the necessary information in the pop-up window that appears.
There is also another way to perform this task. You can manage your customer data with a spreadsheet (.csv, .xls or .xlsx) and then import it to our service. Your imported file will automatically take the form of the list in the example.
Hopefully you have more than one appointment a day, so our 'Note 1 and 2' option will significantly save your time. You don't need to send individual appointment reminders to every client, you just need to create one SMS with the right tags set in it.
Additionally, you can use the 'Insert' button for two purposes at the same time; for adding a client's first name and appointment data to a text message.
So, your SMS message can be something like this:
Yeah, it's just that easy! As a result, Samuel from our sample-list will get the following text message: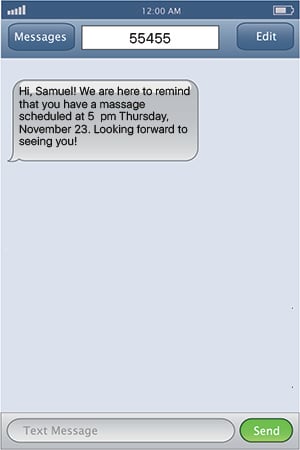 This feature suits not only beauty salons, but also health practices, those in the financial sector, taxi companies and many other B2C industries, as it's also a win-win strategy when you support your clients by following them up with timely SMS reminders.
It also works when SMS promotions make your customers feel that they are important for your business. You can achieve this effect by including your clients' first names in text messages.
So, why not to show customers your appreciation and increase your income at the same time? Especially when our service makes it so effortless.
‍