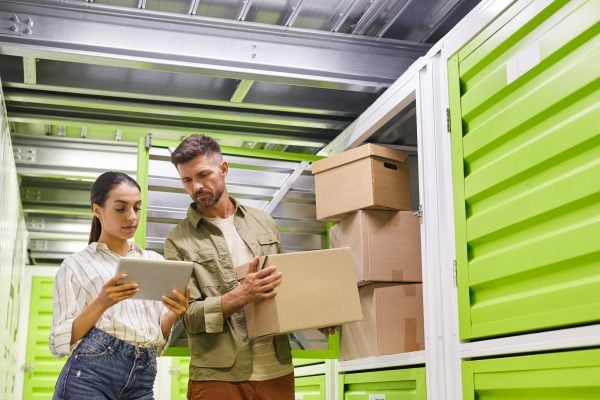 During the pandemic, almost all property-based industries saw rents and occupancy hit by the impact of COVD-19 but one of the very few to remain resilient throughout has been the self-storage industry. Revenues and occupancy grew and demand right now is super strong. So who uses self-storage?
People often turn to self-storage during life changing times such as entering or leaving a relationship, the birth of a child, moving house or a death in the family. People's ability to buy and sell property the past couple of years was massively impacted and few people actually were able to move into new purchases due to (you guessed it…) the many and frequent lockdowns. Many found themselves having to work from home and businesses suddenly needed to make space in their premises to meet the frequently changing social distancing regulations which popped up.
Unable to move, millions of private citizens turned to renovating their homes and found themselves needing somewhere to store their furniture and other personal items whilst plastering, painting and building. For most, self-storage was the only solution and demand soared.
Research by Mordor Intelligence has shown a clear trend of increasing business in the sector; the global self-storage market was valued at USD 48.02 billion in 2020 and is expected to reach a value of USD 64.71 billion by 2026, registering a cumulative annual growth rate (CAGR) of well over five per cent.
If you are in the self-storage business then you know it's all about your occupancy rate. You don't want any units empty for longer than you can absolutely help it so anything you can do to keep your units full has to be used. Demand is often now greater than supply but reducing the empty unit time by just a day multiple times a month can save thousands over a year.
Email has technically now been around over 50 years but grew and grew and really caught the imagination of businesses the world over a couple of decades ago and the rest is history. But is email really the best thing to use if (for example) you are wanting to let your clients know about units being available? Perhaps not.
Data from so many companies such as Mo Engage shows that the average email open rate is less than 20% with a clickthrough rate of only 10%. Not exactly amazing figures. Compare and contrast that with SMS text messaging with an average open rate sitting at about 98% with 97% of messages being read within 15 minutes of delivery. Now that's a totally different story. So how come SMS drives such huge urgency in people to read their messages?
About 65% of the world's population (c. 5 billion people) can send and receive SMS messages. There's no need to have a smartphone or access to the internet which means anybody with a mobile phone can be reached. Whilst there are actually more email accounts in use globally, there are more ACTIVE users of SMS so if you don't use this channel to attempt to reach your customers then you are really missing out.
Things don't always go right in any business so if you need to update customers of problems at the storage facility then do use text messaging to send out status updates to your client database. People just want to be kept informed. It really is that simple. Plus you need to give your customers an easy way to reach you and 2-way text messaging provides exactly that.
The Intis Telecom team have spent well over a decade perfecting the art of business messaging and we have a loyal client following who recognize the value we bring to their businesses each day. Our SMS and chat app solutions make it truly easy for any organization to send its many and various stakeholders content globally rapidly and accurately, allowing them to get on with doing what they do best – treating their customers with exceptional care, as individuals.