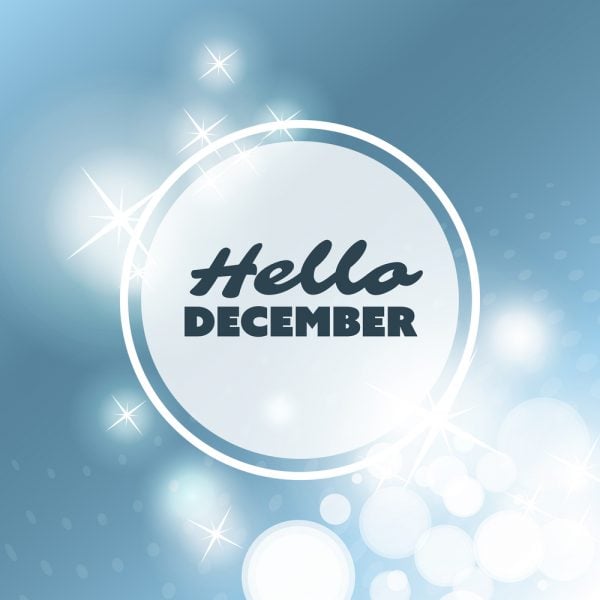 We're back with our monthly piece about good seasonal excuses for sending text messages to clients. Let's look at what interesting days we have in December.
2nd December
Cyber ​​Monday is the marketing name for the Monday after Black Friday (a day of huge discounts and sales). It continues these sales, but online. Online stores offer discounted prices for goods that you can buy without leaving your home.
Of course it's a great excuse for sending SMS mail-outs. It is advisable to start sending them to subscribers in advance, so that they can be aware of your offers and don't miss the right day. Your SMS mail-outs can be a chain of interconnected messages, they can be in support of emails you have sent, or they can consist of separate messages. The main thing is to choose your own approach for the success of your advertising campaign.
"Very soon there will be a day of crazy discounts at our online clothing store. Don't miss your chance to update your wardrobe at very attractive prices. You can already place an order for the things you need on our website [link]"
4th December
This is a very interesting and special holiday dedicated to the upcoming New Year. It is the Day of Ordering Gifts and Writing Letters to Santa Claus. It is dedicated to everyone who believes in this Winter Wizard and is looking forward to a wonderful holiday and New Year.
The date for this holiday has been chosen quite logically. It will be the Holiday Season very soon, everyone is in anticipation of miracles, gifts and surprises, so preparations are going on everywhere for the holiday. Christmas trees are being decorated, fairy lights are lighting up, and so on. It is time to make longed for wishes and write a letter to the sorcerer in chief – Santa Claus. In addition, send letters at this time allows them to reach their addressees on time.
What place do SMS mail-outs have in this event? Everything is very simple. Your messages shouldn't only advertise your products, they can be just informative, aimed at reminding your customers about you. Remind your subscribers about this date, tell them some facts about Santa Claus and create a festive atmosphere.
"The time of miracles is approaching, which means it's time to make wishes. The main thing is not to forget to write about them to Santa Claus. You can send your letter on December 4th"
8th December
This is International Artist Day, which was established in 2007 by the International Art of the World's Peoples Association . Artist Day is a holiday not only for professionals and art lovers. Creativity helps people to enjoy the world and love it. Therefore, this holiday is for all lovers of beauty.
Museums and art galleries can open their doors to all art lovers by organizing events dedicated to artists. Art stores can offer discounts to their customers. If you don't belong to the art business, then you can decorate your place with reproductions of famous paintings and invite your clients to enjoy them, for example, with a cup of coffee or tea.
"On December 8th, International Artist Day, we invite you to enjoy the best works of art in our café. Reproductions of famous paintings, as well as an exhibition of young artists of our city will be waiting for you"
21st – 31st December
This year, December 21st is the beginning of the ancient, pagan, Scandinavian celebration of Yule.
Undoubtedly, of all the festivities of the ancient Vikings, Yule was the most important, most sacred and most powerful . On these nights, all the worlds converge in Midgard; the gods and goddesses descend to the earth, trolls and elves talk with people and the dead arise from the Lower Worlds.
Also, Yule was the occasion for a period of great feasting, in which all members of the clan gathered together in order to meet the Sun, risen from the darkness, and to see the world reborn. It is no coincidence that the elements of this holiday were preserved in the Christian celebration of Christmas. For example, an evergreen tree symbolises life, which should continue after the winter cold.
'Twelfth Night' ends Yule. The twelfth night is the night of the birth of the new year, a new life cycle. This year it is December 31st.
This holiday could be an unusual and very interesting cause for sending SMS mail-outs. You can arrange an SMS quiz for your subscribers, the winner of which will receive a discount or a gift from you. You can also arrange events dedicated to Yule in your café or bar. Use your imagination and surprise your customers during this period.
"Did you know that tomorrow, December 21st, is the beginning of the ancient Scandinavian holiday of Yule? In honour of this, everyday until Twelfth Night (the end of Yule), on December 31st, a quiz dedicated to this holiday will be held on our website. The winner will receive 30% on all our products. Details here [link]"
Of course, in December there are many more interesting events. We have just picked out a few of them. You can also find your own good reasons to send text messages to your clients. We'll be back with more in December.