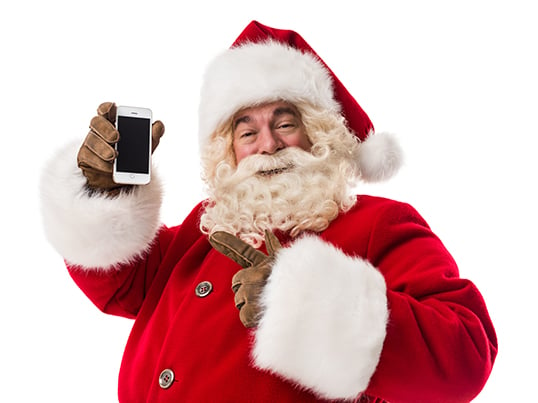 Ho ho ho! Christmas is right around the corner… are you ready with your holiday text marketing campaigns? This festive season people tend to spend more money, so don't miss your chance to promote your product. We've prepared some general advice that will fit all types of businesses and special tips for different industries as well to help you to build your Christmas SMS strategy:
No matter what kind of business you run you can do these simple text marketing efforts at Christmas

Last minute offers: Creating urgency brings you double profit. Especially in December, when almost all people are in the Christmas shopping race. The first profit is that people will react upon your call-to-action instantly, as they don't have much time to beat around the bush – someone can get ahead of them! The second one is that you can control the flow of customers at your store or web-site and avoid stock that, by the way, may hang around even beyond December 24.

Moreover, you can strengthen the effect of this marketing trick by launching last minute offers in last few days before Christmas. This will work great for those people, who take up the Christmas rush latterly. We advice you to use MMS instead simple text messages in this case. For example, you can include look books or gift guides in MMS, so that your customers can breathe out a little bit and simply follow your tips about presents instead of trying to puzzle over their own gift ideas.

Inform about your festive opening times: It will be really cool if you use such simple way, as sending text messages, to keep your business partners, suppliers and customers abreast of your working hours over the Christmas period.
Connect with your staff in a timely manner: Everything goes in a hectic pace during the Christmas season. That's why you may even need extra staff to cope with pick periods. So, it'll be important for you to stay connected with your workers nearly all the time and be sure that you can get a speedy response about shift availability times from them. You can accomplish this by just sending out your staff text messages.
Christmas congratulations: Make your customers and business partners feel special – send them personalized Christmas congratulations via text messages. This simple thing will help you to maintain emotional connection with them.
See what's interesting you can do with text marketing in your industry at Christmas
Retail
Statistically, more and more people use their smartphones to buy Christmas presents. They also say that purchasing online at Christmas makes people more impulsive shoppers. So, with understanding this nature of Christmas impulse buys, why not to jump on board and text your customers eye-catching deals?
Don't forget also to choose a right time for these mail-outs. For example, sending out Cristmas offers on Saturday morning increases your chances that recipients drop in your place, because it's time when they head into town.
Restraurants / cafes / bars/ nightclubs
There's a very sweet and cute way to gently remind your customers about your café or restaurant during the Christmas season. It is to text them that after frazzling shopping they can warm up with a cup of flavored coffee in your eating place. Sounds like a good idea for dog-tired shoppers, isn't it?
And of course, don't ignore such obvious thing as telling your customers that they can book a Christmas party with you via text messages and necessarily give them some festive discounts.
Tour operators, airlines and hotels
Christmas is a time when family and friends get together. So, people will appreciate if you help to make this ideal image of Christmas celebration real by giving them special discounts on flights, so that people's loved ones can be brought home.
But this is not the only way to make your customers happy at Christmas. Many of them would prefer to get away from freezing cold to the sun and sea for Christmas holidays. So, why not to offer them some attractive tours via text messages?
Hotels in their turn can bring that Christmas cheer to their clients by sending them an amazingly appealing text messages to spend a very cozy family Christmas with their hotel around the open fire with mulled wine and Christmas songs.
Health and fitness
Christmas is time for very delicious food, so people tend to put their diets and trainings on a shelf until the Christmas season ends. With understanding this, you can text your clients weekly or daily motivations not to give up on exercising.
It's also known that after holidays people accept "the New Year resolution" of getting healthy and fit. You can take advantage of it and send your clients messages with special offers on gym membership at this time.
Education
The Christmas season is not only about joy, it's also about…stress due to exams! Really it's not the easiest period for students, so if you text them encouraging messages or even send some tips on successful passing exams, you will help them a lot.
Make your customers happy this Christmas!
‍