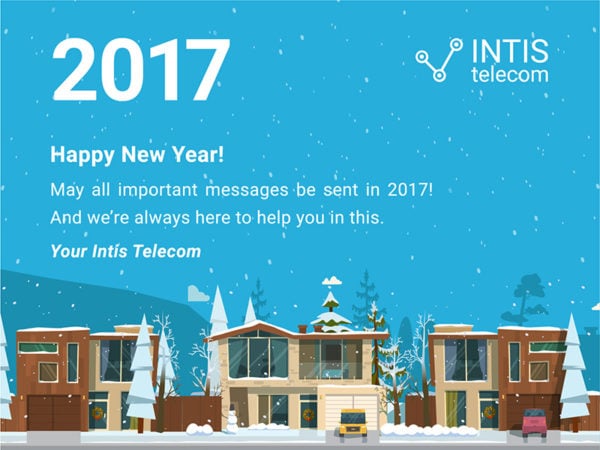 The New Year is right around the corner. This is the natural course of things; one year is on the way out and another is coming in its stead. At Intis Telecom, this symbolizes the start of new endeavors. So let's take a look back at what we've done in 2016, and have a look at our new goals for 2017.
About 2016:
We've worked long and hard on improvements to our text message platform. We've also rolled out new texting services this year. Most of all, we are proud of two things; increased SMS capacity and greater payment capabilities. They prove that we've become more technically advanced and show our great desire to cater for our clients needs.
Our first achievement is that now our text message platform is able to send out 30 thousand (!) text messages per second! This's a really astonishing number that many of our competitors haven't yet reached.
What does this number mean for our customers? It means that they can launch large-scale SMS campaigns and not worry about delivery failures. So, none of recipients of text messages will be left behind.
Our second achievement is that we've partnered with all major digital payment systems, such as Paysera, Stripe, Skrill and Paypal. We've found this very important, because our customers live all over the globe and use different payment methods. So, every customer can choose the top up method which they feel most comfortable with.
What are we going to do in 2017:
Actually, we've already started to draw up future plans since the Latin America Wholesale World Congress-2016. We've started to seek out the best potential partners among Latin American mobile operators. This is a crucial objective for 2017. It's very important for us to ensure that our customers can contact their Latin American audience via SMS at the best prices and with best quality of mobile network.
Another essential goal for 2017 is to integrate our text message platform with e-mail services and Viber messenger. In our opinion this integration will be very useful, as our customers can run their marketing campaigns using three communication channels at the same time and correlate these channels with different target groups amongst their audience. And what's no less important is that all these mail-outs can be launched from one place – your personal account on the Intis Telecom platform.
In conclusion, we'd like to say that we are always open to our customers' suggestions about what new things we can create or what we should improve in our existing services, as staying in touch with our customers and knowing their needs has always been our goal over the years.